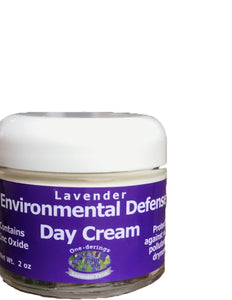 Our Day Cream helps to neutralize environmental damage due to free radicals in airborne pollutants. This product combines lavender essential oil, zinc oxide and Vitamin E to make a natural defense against pollen and pollutants in the air. Lavender essential oil heals damaged skin. Zinc oxide is as an anti-inflammatory agent that provides a physical barrier protecting your face. Vitamin E is an antioxidant that protects against the damaging effects of free radicals.
Besides being a good defense for your skin, this cream is also a good foundation for your make up and will help even out uneven skin color.  Win-Win overall.  
*Sunblock is an essential product for healthy skin. Please always use a full spectrum SPF to protect your skin.