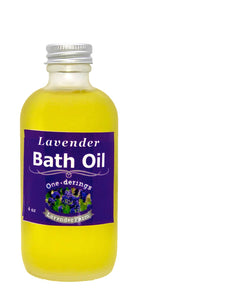 Our Lavender Bath Oil enhances the experience of a deep, soothing soak in the bathtub without leaving an oily mess. This product moisturizes your skin without feeling greasy. Unlike other bath oils that floats on top of the water, our Bath Oil disperses uniformly in the water. The ingredients used to make our Bath Oil include a unique blend of lavender essential oils, carrier oils, and mild emulsifiers.
Essential Oils: We use a proprietary blend of several types of lavender essential oils.This blend will relax your muscles and your mind.
Carrier Oils: We use olive oil, grape seed oil , almond oil, sunflower oil and apricot oil. to accomplish the desired penetration/moisturization.  
We also put in an emulsifier which allows the carrier oils and essential oil to disperse throughout the entire bath water as opposed to simply floating along the surface.