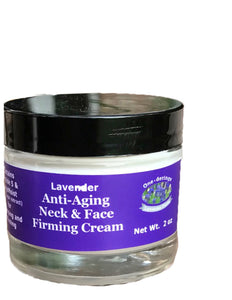 Our Lavender Firming Cream is an anti-aging face and neck cream. It combines our proprietary  lavender essential oils with tripeptide 5 and VegeMoist.  Tripepetide 5 firms the skin, while significantly improving the appearance of wrinkles. VegeMoist hydrates from within to promote collagen production and elasticity. Vegamoist is a unique formulation derived from beet sugar. It is proven to be an effective, anti-aging skincare Ingredient. 
Skin becomes dry due to environmental stressors and the natural effects of aging.
Vegamoist works from within the skin on a cellular level to improve and maintain hydration. It is specifically created to support healthy skin by maintaining hydration, while preventing skin damage caused by UV radiation and oxidation.