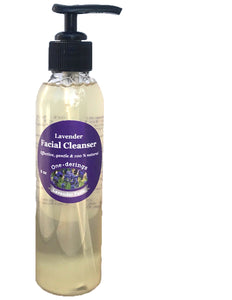 Our Lavender Facial Cleanser is created with three, botanically-derived cleansers, vitamin B5 and hydrolyzed wheat protein. The result is a gentle cleanser that is effective in removing makeup and sunblock residue without drying your skin. While the cleanser cleans the skin, vitamin B5 and the hydrolyzed wheat protein condition it.
Vitamin B5, which is readily absorbed into your skin where it then converts to vitamin B, which is a part of healthy skin and hair. 
Hydrolyzed wheat protein  that as been shown to leave skin conditioned so it is protected from moisture loss. It also helps to reduce irritation associated with washing your face.

*This product is free of parabens, EDTA, formaldehyde and sulfates.